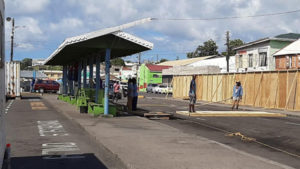 Construction began Monday for a new and improved West Basseterre Bus Terminal, earmarked for a December 2019 completion to accommodate the hectic Christmas/Carnival season.
The project will see the construction of the new Omni Bus Terminal, and while the new bus terminal will occupy the same physical space as the current one, improved features will include increased holding capacity, fully covered facility, comfortable seating and defined passenger holding areas.
According to the St. Christopher Air & Sea Ports Authority (SCASPA), in keeping with its corporate responsibility mandate to the citizens of St. Kitts and Nevis, building this long-awaited structure which will add significantly to the ambiance already being initiated by the recently modern-designed Basseterre Ferry Terminal.
SCASPA, in conjunction with the Traffic Department, is asking all operators, venders, travelers, users of the current and surrounding facilities and road users to pay special attention to construction signs and warning notices during the period to avoid injury and incidents. Other significant changes during construction will include the elimination of one of the current vehicular traffic lanes on the main road as this has been cordoned off for construction purposes.
In light of this, parking directly in front of the Island Bakery outlet will be prohibited as that lane will be used for moving vehicular traffic. Additionally, users of the parking area directly in front of the bars are asked to kindly relinquish said parking to the Omni buses during construction. The appropriate signage will be erected to ensure compliance and safety.
The new bus terminal is a continuation of SCASPA's improvement project in the vicinity which was started with the new and improve Ferry Terminal.