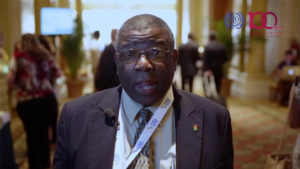 The Opposition St. Kitts and Nevis Labour Party has revealed that a number of lawsuits have been filed against the Supervisor of Elections Elvin Bailey for alleged breaches of Electoral Laws.
SKNLP MP for Constituency #2 Marcella Liburd, speaking at a party press conference Wednesday, claimed that names of persons perceived to be Labour Party supporters are being illegally removed from the voters list without due process. She told Freedom FM that in her constituency, the legal action comes in the form of court appeals to the Registration Officer's decision to remove the constituents' names.
"Over the last 4 and a half we have witnessed the complete politicization and corruption of the electoral office. The Supervisor of Elections Mr. Elvin Bailey has been conspiring with others to remove not just the names of persons who have been registered for many years but the names of newly registered voters. On a monthly basis persons registered in Constituency #4 who have been registering as first time voters have had their names corruptly and illegally removed by the electoral office without due process in an effort to disenfranchise citizens who are duly qualified to vote. In Constituency #2 we have seen similarly efforts at fraudulently and illegally removing names of lawfully registered voters.
"I would like to report that we have recently initiated court action against the Supervisor of Elections and the Electoral Office in these matters. The evidence we have collected so far is overwhelming and is truly appalling to see flagrant illegalities and corrupt practices taking place at the Electoral Office. We will intensify our push back through more court action and we will take all the necessary steps to bring these subversive actions to light. The Supervisor of Election is playing a dangerous game."
Liburd accused the government of using the electoral office in a corrupt manner to secure a win at the next election due in 2020.
"As the election window narrows and the government becomes more and more desperate in their bid to hang on to power. The illegalities at the Electoral Office are rapidly increasing the very latest attempt to illegally remove persons from the voters list is appalling, horrific, and shocking. Over the last four and a half years the Timothy Harris-led regime has made a mockery of our electoral system, but even more damning than that the evidence of corruption and fraud at the electoral office continues to mount.
"We are now at a stage after four and a half years of this Harris regime, the legitimacy of our elections is at stake. The stability of our system of government is being seriously threatened and the urgent action id required to prevent our country from falling into chaos, disorder and complete dictatorship."
MP Liburd said different forms of legal action are being taken in other constituencies and defendants include registration officers. The Labour Party is assisting constituents with the process of suing and is itself "gathering and preparing evidence to take its own legal action" against the Supervisor of Elections.
Freedom FM attempted to contact Supervisor Bailey for comment but was informed that he is presently overseas.
Based on inquiries Freedom FM understands that voter registration has increased in the latter part of this year with more than 600 persons registering to vote since July.