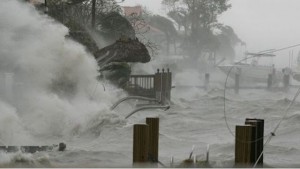 Climatologist at the Antigua & Barbuda Met Office, Dale Destin has indicated this year's Atlantic Hurricane season could be a more active one compared to the last three years. With less than a month to go before the start of the official 2016 season, the forecast is for 13 named storms, six of which are expected to be hurricanes and three becoming major hurricanes.
Last year produced 11 named storms, including four hurricanes and two major hurricanes. Notwithstanding, it was a relatively quiet year, Antigua& Barbuda was affected by Tropical Storms Danny and Erika. Even though damage was minor, the threat of TS Erika closed the country for about 24 hours causing an unknown loss of revenue. Dominica suffered significant loss of lives from catastrophic widespread flooding due to Tropical Storm Erika.
Asked if the expected increase in hurricane or storm activity this year will assist in arresting the severe drought conditions the country has been experiencing over the last 34 months, Destin said, "Increased activity doesn't necessarily translate into more rainfall since storms or hurricanes would have to affect the country directly for that to happen, since Tropical Cyclones are dynamic systems and nothing is guaranteed." Destin stated further, "There are at least two climate factors that could cause the hurricane season to be quieter than is currently being predicted. El Nino is ongoing and is virtually synonymous with inactive Atlantic Hurricane Seasons.
The forecast is for a transition from El Nino to neutral conditions around the middle of the year, and possible La Nina around October. However, if El Nino were to persist beyond summer, we would see another quiet hurricane season. On the other hand, La Nina could lead to an active season. El Nino is the phenomenon where the Pacific Ocean surface temperatures are warmer than usual, where La Nina occurs when these surface temperatures are cooler/colder than normal. La Nina conditions are more conducive with increased rainfall." The official Atlantic Hurricane Season runs from June 1 to November 30.