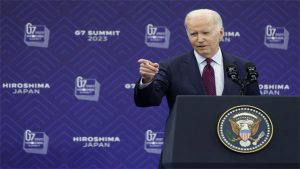 China has questioned the "sincerity" of the Biden administration, as it pushes to resume high-level diplomatic talks with Beijing while also heaping tech sanctions on its main economic rival.
"The US side asks for communication on the one side, yet on the other, suppresses and contains China by every possible means," said Chinese Foreign Ministry spokeswoman Mao Ning at a regular briefing in Beijing on Monday.
"It imposes sanctions on Chinese officials, entities and companies — what is the sincerity and meaning of such communication?" she added. "The US should roll back sanctions immediately, clear the hurdles and create favorable conditions for dialog."
President Joe Biden said Sunday that he expected ties with China to improve "very shortly," dismissing an alleged spy balloon that caused a diplomatic spat earlier this year as "silly." The US leader added that his administration could lift sanctions on Chinese Defense Minister Li Shangfu, removing one barrier to a potential meeting with US Defense Secretary Lloyd Austin at an event next month in Singapore.
READ MORE: China Bars Micron Chips in Escalation of US Tech Clash
The Biden administration has been trying to repair the diplomatic relationship with China by bombarding Beijing with meeting requests, Bloomberg earlier reported. At the same time, it has imposed curbs that thwart China from acquiring US technology applicable to military modernization, citing national security concerns.
There have been signs that strategy is working to a point. China's Commerce Minister Wang Wentao will meet US Commerce Secretary Gina Raimondo and US Trade Representative Katherine Tai this week.
But the two-track policy has also caused a disconnect between the US desire for more contact and its campaign to contain the world's second largest economy.
READ MORE: Biden Says US-China Relations Set to Improve 'Very Shortly'
Biden has rallied other nations to follow the US's strategy. The Group of Seven leaders released a communique over the weekend announcing a fresh initiative to counter Chinese "economic coercion" as they "de-risk" from China, while at the same time pledging to foster "constructive and stable" relations with Beijing.
Shortly after that statement, China announced Micron Technology Inc. products had failed to pass a cybersecurity review, a move that appeared to be in retaliation to US curbs. Washington has blacklisted Chinese tech firms, cut off the flow of sophisticated processors and banned its citizens from providing certain help to the Chinese chip industry.