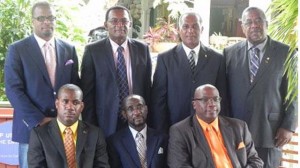 The six elected opposition MPs in Team Unity have urged their lawyers to write to the Chairman of the Constituency Boundaries Commission Peter Jenkins and Prime Minister Denzil Douglas about changing the electoral boundaries before upcoming elections.Team Unity leader Timothy Harris says the opposition is concerned that efforts might be made to change the boundaries just ahead of the coming election expected very soon.
"One of the fears that we have expressed to our attorneys is that the government was going to move post haste to have the boundary changes implemented," Harris told WINN FM.
Harris said the lawyers decided to "write and to warn that by and large we were concerned with the gerry mandering of the electoral boundaries in St Kitts, we intend to fight that battle of course in the court," the Team Unity leader said.
On Freedom Fm's Good Morning St Kitts-Nevis (GMSKN), the Labour Party Representative Dr. Terrance Drew submitted that boundary changes were within the ambit of the constitution every 5 years. Drew said there had been no boundary changes in St.Kitts-Nevis for some 25 years as the last one was implemented by a PAM government without any consultations with the people of SKN.
Meanwhile St. Kitts and Nevis' Prime Minister the Right Hon. Dr. Denzil L. Douglas is making another case for fair and equitable electoral boundaries in accordance with the Constitution.
Appearing on his weekly radio call in programme on Tuesday, Prime Minister Douglas said that regional and international election observers have over the past general elections made recommendations for the boundaries to be realigned to make them more equal.
"CARICOM has spoken out on this. And the Organization of American States has spoken out. Opposition politicians always want Caricom, the OAS and the Commonwealth of Nations to speak out. Well, they have spoken out, and they have said that with reference to elections, St. Kitts and Nevis needs to equalise our constituencies and adjust our boundaries. Most importantly our Constitution says that this is what we have to do," said Prime Minister Douglas.
Dr. Douglas told listeners that in order for any Government to function in a fair and equitable manner and for the workload of each Parliamentary Representative to be roughly equal, and in order for the country's eleven constituencies to benefit in roughly equal ways from the resources of the Government, the Constitution requires that the number of people living in each Constituency must be roughly equal.