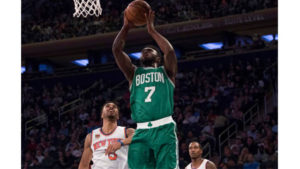 Celtics second-year swingman Jaylen Brown downplayed his dunk on New York Knicks All-Star big man Kristaps Porzingis, grading it a mere 5 on a scale to 10 while suggesting he has had more notable jams during his brief NBA career.
Brown, racing up the right sideline in transition, blew past his defender early in the second quarter and threw down a loud one-handed slam as Porzingis rushed over with help defense.
The 7-foot-3 Porzingis leaped but ended up with Brown's left forearm in his face while he finished the slam with his right hand. While the photos and videos quickly went viral, Brown shrugged off the moment after the game.
"One to 10? On my scale? It was about a 5," Brown said. "Just because I've had some in the past that have been pretty spectacular. But it was fine. We got the win, more importantly."
A couple of teammates on Boston's bench tumbled out onto the court in celebration of the dunk, but Celtics coach Brad Stevens could be seen emphatically motioning for Brown to get back on defense before the Knicks called timeout.
Brown gave his coach's anger a much higher ranking on his scale.
"Twelve," Brown said to laughter, then started a high-pitched voice to mimic Stevens' sideline shrill. "'Get back! Jaylen! Jaylen!' Brad was pretty upset."
Celtics forward Marcus Morris dubbed Brown's dunk "crazy" and said it "kind of shocked" the Knicks, who watched shorthanded Boston race away in the second half.
Brown finished with 14 points on 6-of-14 shooting with 4 rebounds and 3 assists over 28 minutes.
Earlier in the week, after John Wall's injury opened a spot on the East All-Star squad, Golden State Warriors All-Star Draymond Green told ESPN that Brown should replace the Wizards point guard.
The NBA instead named Andre Drummond an injury replacement and, around the time of the league's announcement, Brown posted three thinking emojis to his Twitter account. Drummond responded on Instagram by writing to another user, "Not sure why Jaylen Brown is confused. He's not even the top 3 option on his team."
Brown said Wednesday that his emojis were not directed at Drummond's All-Star nod but made it a point to note the difference in where the two teams are in the East standings.
"They weren't, and the media just kind of took it completely out of context," Brown said. "I'm a big fan of Drum. So they kind of ran with it, but it's all fun. At the end of the day, we're No. 1 in the East and they're whatever they are. So, keep it going."
Brown did appreciate the praise from Green.
"Oh man, that was pretty cool," Brown said. "Any time when one of your peers recognizes you for that, that's love. So I appreciate Draymond for saying that. That was dope."
Brown was asked if he believes he deserved All-Star consideration. He has an outside shot to nab the spot available with Kevin Love (broken hand) unlikely to play.
"I don't have any say-so in that. I just like the fact that we're winning," Brown said. "The opportunity that I get to play each and every night with my guys, and play off them, and continue to win, that really is what matters most to me. I don't care about any of the other things. I'm just happy to be in the conversation. I think just being somebody with an important role on this team, I just think that's a blessing. Shout out to Danny Ainge for making that happen."