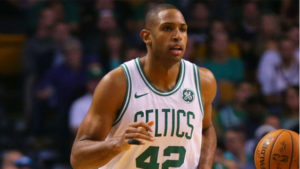 The exasperated look on the face of assistant coach Damon Stoudamire told the story for the Boston Celtics.
After offering little resistance against a Shai Gilgeous-Alexander-less Thunder squad and giving up a season-high 74 first-half points in Oklahoma City, Boston's coaching staff implored players at halftime to guard the ball better and stop the Thunder's insatiable desire to drive.
Then, on the very first play of the second half, Jalen Wiliams pranced to the rim for an and-1 layup. Stoudamire shook his head and rubbed his temples. The Celtics were clearly not going to change their effort level on this night.
So the Thunder maintained a 48-minute layup line. Boston gave up 150 points for the first time since 1979. It was an embarrassing effort from a team that too often wants things to come easy.
Celtics players admitted they downshifted at news that Gilgeous-Alexander would not suit up. But despite getting outworked by a young Thunder team in mid-November in Boston, the Celtics still showed up like they expected to sleepwalk to a win.
A familiar pattern emerged: The Celtics missed open 3-point shots, got frustrated, and checked out. When the Thunder weren't exploding past perimeter defenders for easy layups, they would simply outwork the Celtics for second-chance points.
By the end of the second quarter, the Celtics were crashing into each other trying to defend simple pick-and-rolls.
The Celtics were down 28 by the time Marcus Smart earned his second technical and was ejected from his quasi-homecoming. Celtics interim coach Joe Mazzulla put Smart in a bear hug to prevent further escalation with the officials.
It was the only defense Boston played all night.
The Celtics exuded confidence at the start of the year when they seemingly couldn't miss from beyond the arc. They talked about an insatiable desire to get back to the championship stage while riding an historic offense.
But, when things get tough, this team has struggled to respond. They sometimes look like a kid yearning to hit the reset button on his XBox when games start poorly.
So what happens next?
Jaylen Brown suggested the Celtics should have seen this ass-kicking coming. After Sunday's loss in Denver, he hinted at the team not being as focused as it needed to be coming off the New Year's revelry the night before. If only there was a holiday to blame for Tuesday's pathetic showing.
Weird things happen during the doldrums of January but rarely does a true championship contender get scorched for 150 points by a souped-up G-League team. The question becomes, are the Celtics willing to consistently put in the effort to be an elite team, or are they going to continue to pick and choose their spots?
The Celtics need more from everybody. Mazzulla remained even-keeled in his postgame comments but has to stress behind closed doors that Tuesday's effort is unacceptable. Jayson Tatum and Brown have carried a hefty load lately but need to be at the forefront of steadying this ship in rocky waters.
Not to beat a dead horse, but it sure feels like there's an easy opening here to slide Robert Williams III back into a starting role. Nothing is going to jumpstart Boston's defense more than infusing Williams III's energy. Maybe that's less than ideal while they manage his playing time in the infancy of his return, but Boston can more easily set a defense-first tone when Williams III is with that group.
Boston also needs at least some of its role players to snap out of a month-long funk. A group that wanted to be known as the best second unit in the league has withered since that trip to Golden State. How ironic given Boston's desire to showcase its newfound depth that night in San Francisco. The slight dip in point output isn't overly concerning, but the efficiency of that group is.
Here's a look at Boston's bench production through the team's first 26 games (with league ranks) versus everything since the Golden State game:
The Celtics' bench shooting has plummeted over the past 12 games.
The downturn in role player 3-point shooting is particularly jarring. Boston had a cluster of bench players among the NBA's top 3-point shooters entering that Golden State game.
A look at the cliff they've fallen off over the last 12 games:
Every Celtics bench player has seen their 3-point shooting drop over the last 12 games.
But the bottom line is that Boston simply needs to play with more urgency. This team needs to figure out what its identity is going to be and lean into it.
Are they going to be an elite offense with a defense that isn't quite the league-leading juggernaut of last season but is capable of locking down in key moments? Are they going to lean heavy into last year's defense-first mentality even if it that leaves less energy to expend on the offensive side?
The Celtics have all the talent and potential. They simply have nights where they don't fully harness it. But you can't just turn it on and off. Championship teams bring it so frequently that you can dismiss the rare blips.
Boston has to prove that Tuesday night's effort was an outlier. But here's the harsh reality: Since December 2, Boston is 8-8 with an underwhelming +0.7 net rating. In that month span, the Celtics offense ranks 28th. The defense sits fourth in that span but has nights like Tuesday where the intensity is impossibly absent.
The rest of the East is on Boston's heels. Brooklyn has won 12 straight to move within a half game. The Bucks, Cavaliers, and 76ers are lurking.
Boston has to decide who it wants to be, put in the effort to be that team, and change its inconsistent ways of the past month.