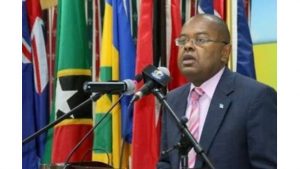 ST GEORGE 'S, Grenada (CMC) — A regional climate change negotiator says Caribbean countries will have to adopt new measures to deal with the impact of climate change.
Dr James Fletcher, a former St Lucia government minister, told the audience to a lecture on "Climate Change, the Caribbean and the Paris Agreement – Inextricably Linked" that Caribbean leaders would have to inform their various populations that they must come to the realisation that as part of the adaptation and mitigation measures to deal with the impact of climate change life cannot continue to be same.
"There are somethings that they will have to tell people that they can no longer do," said Fletcher said in the third of a lecture series organised by the Barbados-based British High Commission in collaboration with territories with active Chevening Scholarship associations. The lecture was also delivered in St Lucia, St Kitts and Barbados.
Suggesting a number of recommendations that people will have to adapt, Fletcher, who played an active role in the Caribbean's response to the Paris Agreement on Climate Change, said that some regional countries may have to force the changes on citizens by approving legislation to make the recommendations mandatory and enforceable.
"Our governments may need to legislate as policy something like rain water harvesting because we will just have to encourage our people to do rain water harvesting if we are to effectively deal with the expected harsh dry seasons that are predicted to occur during the dry season because of climate change," said Fletcher.
He said home owners should also consider installing dual plumbing systems so that treated water are used more wisely while non treated water can be used in toilets, watering gardens and washing down vehicles.
Fletcher, a former director of the Social and Sustainable Development at the St Lucia-based OECS Commission, also suggested that among the measures of adaptation is the need for governments to develop and implement effective land use policies, install early warning systems and confront the challenges in waste management.
"We have to plan for more intense hurricanes but people must also accept the fact that the damages done by flooding is not only one link directly to climate change but it is mix with self-inflicted wounds as a result of traditional habit," he said, indicating that overflowing can be stopped if people cease dumping household waste into rivers and streams.
Fletcher said that there funds available from many sources for regional governments to receive grants to undertake projects as it relates to climate change but because of the lack of data in the area it's difficult to make strong arguments to be awarded the funds.
'We in the region need to adopt an evidence based culture by gathering data and attaching the results or findings when we are submitting for grants proposals, that is what will speak for us not the traditional knowledge of how it used to be, these agencies want to see the evidence as to why the claims are link to climate change," he said.