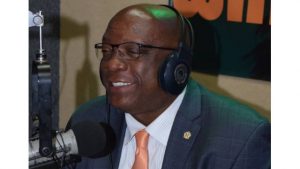 A post on the Twitter account of Secretary General of the Organization of American States (OAS), Luis Almagro relating to upcoming elections in Dominica has left the Caribbean Community (CARICOM) upset with the OAS boss yet again.
The 15-member regional grouping, which recently condemned Almagro for recognizing Venezuela's opposition leader Juan Guaido who declared himself interim president, has now chastised him for what they said was his apparent support of a comment that the polls due in Dominica next year would not be free and fair.
In his tweet of February 7, Almagro stated that he had met with the island's former ambassador to the OAS, Crispin Gregoire, who "expressed his concern that the upcoming elections in Dominica are not free and fair".
But in a statement issued today, CARICOM chairman Dr Timothy Harris – Prime Minister of St Kitts and Nevis – said Almagro "associating himself with a suggestion that Dominica will not conduct free and fair upcoming elections is the latest manifestation of his inappropriate behaviour".
"CARICOM remains deeply concerned by the actions and statements of the Secretary-General of the Organisation of American States which are outside the bounds of his remit as the Head of an international organisation," he said.
"Further, it is disturbing that without first consulting with the Government of Dominica, which is a Member State of the organisation, he, as Secretary-General, should be associating himself with such an inference.
"The Community once again calls on the Secretary-General to refrain from actions and statements which are beyond the competence of the Office and affect the impartiality of the organisation which he has the privilege to lead," the CARICOM Chairman added.
Dominica's Minister of Foreign and CARICOM Affairs Francine Baron wrote to Almagro a day after the offending tweet, demanding an apology and that he immediately take down the post which she said was "inaccurate, false and misleading".
However, the tweet remains on Almagro's account.