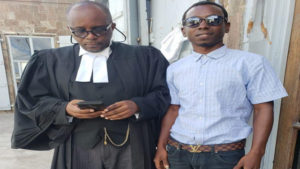 Shakel Campbell of Craddock Road has been found not guilty of the 2017 armed robbery of SL Horsford's Nevis Centre.
On February 17, 2017 two armed males held up the business during working hours and absconded with over $13,000 in cash.
Three weeks later, the then 21-year-old Guyanese national, a former Horsford employee, was arrested and charged with two counts of armed robbery. A search of his house turned up a single round of ammunition and he was charged for possession. He was remanded to prison to await trial. No one else was arrested for the robbery.
Campbell went on trial for the ammunition charge in April 2019 and pleaded guilty. He was sentenced to time already served on remand and released. In August this year he was again arrested for the robbery charge and held on remand.
The Preliminary Inquiry was held in August and the trial began on Monday. Campbell, who was only indicted on one count of armed robbery was represented by Defense attorney Chesley Hamilton and Crown Counsel Vaughan Henderson and Megan Nisbett presented for the prosecution.
There were two days of oral submissions during which Hamilton challenged the identification process saying there was no line-up and the two individuals who committed the robbery were masked and wearing dark clothing.
Hamilton also challenged the signed confession statement, saying there was no record of police's claim that the defendant had waived his right to an attorney.
Trial Judge Justice Ermin Moise upheld Hamilton's submissions, deeming the confession inadmissible.
On Wednesday the Prosecution opted not to offer any further evidence and Justice Moise directed the jury to return a unanimous not guilty verdict as a matter of law.