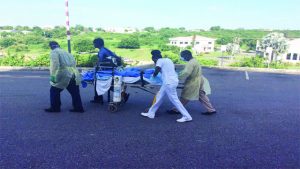 Five days after Gayan Williams suffered second-degree burns about her body in a house fire, and was airlifted to Guadeloupe, relatives have confirmed she succumbed to her injuries and died yesterday.
In speaking to one of her uncles, Regon Williams told OBSERVER media the family is obviously devastated by the news of her death. "It's sad, but we have to be strong for each other. After I received the news, all I could do is cry," he said.
He added that the two children, step-daughter Jadea and son David, who were also affected by the fire, are being monitored and treated for smoke inhalation in the Intensive Care Unit (ICU) at the Mount St John's Medical Centre. According to Williams, he has no information on when Gayan's body will be flown back to Antigua.
Chief Medical Officer Rhonda Sealy Thomas said all the persons involved tried their best to save the life of the 41 year old, who worked at the Mount St John's Medical Centre as an anesthetist.
"I want to say thanks to the staff at MSJMC who worked tirelessly on Gayan and her family. I also want to thank the French Embassy and the honorary counsul in Antigua who worked between Wednesday and Friday last week to evacuate them.
"I also want to thank the doctors in Martinique and Guadeloupe. I was in contact with them over the weekend. They really tried their best, and I want to thank the French government for the assistance they provided, the people and government of Antigua & Barbuda," Sealy Thomas said.
Sealy Thomas noted that Williams' three-year-old son, Jadean, who also suffered second degree burns during the same house fire, and had to be flown to neighbouring Martinique, is in stable, but critical condition. She is asking everyone to keep him in their prayers.
Jadean sustained burns to his face and upper body.
Last Wednesday, Williams along with Jadean, her eight-month-old son David, her fiancé Eddy, and his seven-year-old daughter Jadea, were rushed to the hospital by ambulance, after a fire, believed to have been caused by an electrical problem, engulfed and burnt their house.