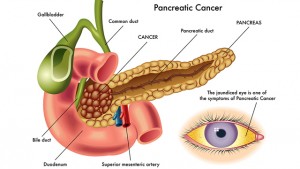 LONDON, England, Tuesday March 3, 2015 – Until now, pancreatic cancer has widely been viewed as a virtual death sentence.
In recent years it has claimed the lives of former Barbados Prime Minister David Thompson, Apple co-founder Steve Jobs, actor Patrick Swayze, opera singer Luciano Pavarotti and countless other victims worldwide.
Only one percent of all people with pancreatic cancer survive for ten years after diagnosis, with most dying within weeks or months because symptoms haven't shown until the disease is too far advanced to treat successfully.
Treatment of this killer disease could nevertheless be revolutionised since scientists achieved "dramatic" results with a platinum-based therapy.
Researchers say they have now discovered what makes pancreatic cancer "tick" by looking at the DNA of its tumours.
The scientists found that these can be classified into four types, and the 15 percent of patients with one of these types could be helped with platinum-based drugs that are already used to treat testicular and ovarian cancer.
The results of early trials have been so dramatic that scientists said they had never expected to see them "in their lifetimes."
"While most patients don't respond to platinum therapy, a few had a dramatic response, which most oncologists would never see in their lifetime," said Professor Andrew Biankin, the Cancer Research UK scientist who co-led the international study.
"Two patients treated with platinum therapy had their tumours completely disappear and one is still alive four or five years down the line which is almost unheard of," he revealed.
The disease was so advanced in both cases that the patients had originally been expected to live for just a few months.
"Being able to identify which patients would benefit from platinum-based treatments, would be a game-changing moment for treating pancreatic cancer, potentially improving survival for a group of patients," Professor Biankin said.
Traditionally, pancreatic cancer has been one of the most difficult cancers to treat, with doctors struggling to know which drugs to give to patients.
The disease progresses so rapidly, moreover, that if the first drug doesn't work, in many cases there is not enough time to try another one.
It is hoped that in the future, pancreatic cancer patients could be prescribed drugs based on their tumour's DNA, rather than based on what is largely educated guesswork as obtains at present.
It is also hoped that the study, which was published in the journal Nature, will lead to new treatments for other forms of the disease, as well as ways of diagnosing it earlier.