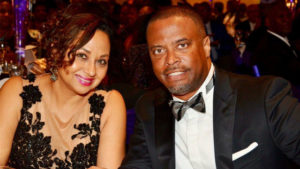 Nevis Premier and NIA Minister of Finance Mark Brantley is addressing concerns raised about his wife's involvement with an international bank recently licensed to operate in Nevis.
At a press conference Tuesday, the Premier made the announcement about the new entity at a press conference in February, however members of the Opposition Nevis Reformation Party soon criticized Brantley for not revealing that Mrs. Sharon Brantley was listed as a director of the new bank, Nevis International Bank &Trust Ltd.
"My wife's involvement, I gather, has created some discussion, and we live in a democracy, and discussion is not only expected, it's welcomed.
"I want to make it very clear to members of the public that these are my wife's clients. As a consequence of her owning her own business these people she has known for over 20 years, she is the one who negotiated and brought them to the island. And my understanding from her is that hey asked her to act in an interim position as director to help them set up the operation, and that is exactly what she's doing."
"My understanding further, to the extent that it matters, is that this interim position is soon to end and that the people have already identified others who have banking experience and whom they would use as local directors for their bank."
The Premier disavowed any influence or favor with regard his wife's role with the new bank.
"My wife is an independent woman; she has been so for the last thirteen years. As a matter of fact her business predates my entry into politics and certainly my entry into government – because I only entered government in 2013 and became Premier in 2017. Si the reality is that my wife's involvement in business happened long before I'm in politics.
"This wasn't a situation where the people came to the government and the government said oh go and hire Mrs. Brantley, she will do something for you. To the contrary, she is the one who brought them and I believe as a business woman she's entitled to do that."
Premier Brantley said as a qualified business woman his wife is entitled to earn a living, and since she is not a politician, there is no conflict of interest. He contends that the process of the bank getting established in Nevis had been transparent and above board.
According to the website of the Nevis International Bank &Trust Ltd, it is "an international bank duly licensed by the government of Nevis in the Federation of St. Kitts and Nevis. The Bank offers comprehensive business and private banking solutions to a global clientele."
The entity lists its leadership team as Chairman Sir Tony Baldry, Barrister, Solicitor from the UK, a Vice Chairman, and two board members, including Mrs. Brantley.
Freedom Fm understands that the bank has already bought property to operate out of and has begun renovation to the premises. Nevis International Bank &Trust Ltd has also reportedly started hiring staff and is likely to open its doors in the next several weeks.