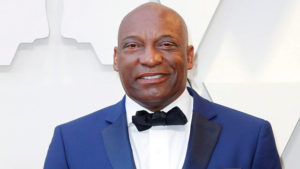 Oscar-nominated director John Singleton has died aged 51, his family have confirmed.
He was admitted to hospital following a stroke earlier this month, where he was recently visited by stars including Fast and the Furious actor Tyrese Gibson and Hidden Figures actress Taraji P Henson.
Singleton's family said in a statement that he had "passed away peacefully" after being taken off life support.
He became the first African American filmmaker to be nominated for the Best Director Oscar – and the youngest ever nominee for the category – for his 1991 debut feature, Boyz n the Hood, which he both wrote and directed.
Starring Cuba Gooding Jr and Ice Cube, the film followed two young men who become embroiled in the street gangs of Los Angeles, the city where Singleton was born.
His later films included 2 Fast 2 Furious (2003), Rosewood (1997) and, in 2000, a remake of the 1971 film Shaft.
He is survived by his mother, Sheila, and five children from three relationships.
Speaking to The Telegraph in 2005, Singleton said his style of realist filmmaking was inspired by the French New Wave director François Truffaut.
"Truffaut had the kind of life I had. I ditched class, I stole things and might have gone to reform school, but the cinema kept me on the straight and narrow, exactly as it did with him," Singleton said.
"Truffaut said once that he was trying to capture the extraordinary quality of ordinary situations. [Truffaut's] The Four Hundred Blows encouraged me to try to capture the same feeling by finding every character's every nuance, however small, and also to tell a story as personal to me as possible – exactly what I did with Boyz n The Hood."
A number of figures in the film industry have paid tribute online. "YOU saw in me what I did not see in myself!!!" Henson wrote on Instagram.
Jordan Peele, the Oscar-winning writer and director, added on Twitter: "John was a brave artist and a true inspiration. His vision changed everything."