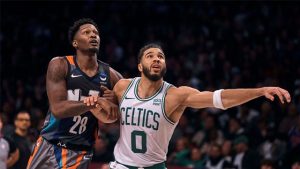 The Boston Celtics improved their unbeaten start to eight games courtesy of a 124-114 win over the Brooklyn Nets.
Despite trailing by 12 points at half-time, the Nets were able to draw back within one possession halfway through the fourth quarter.
But the Celtics were able to steady the ship late, lifted by double-doubles from Jayson Tatum and Jrue Holiday.
Cam Thomas top-scored for Brooklyn with 27, as the Nets dropped to three wins and three losses on the season.
A 31-point effort from Kevin Durant was not enough for the Phoenix Suns to topple the Philadelphia 76ers.
Joel Embiid and Kelly Oubre Jr combined for 51 points as the Sixers held on for a 112-100 victory – their fourth in a row.
Phoenix missed injured starters Bradley Beal and Devin Booker, with Durant the only Sun to score more than 13 points.
The Orlando Magic continued their surprise start to the season with a dominant 120-101 victory over the Los Angeles Lakers.
Franz Wagner led the way for Orlando with 26 points, followed closely by Paolo Banchero with 25.
The Charlotte Hornets defeated the Indiana Pacers 125-124 to snap a three-game losing streak.
Indiana had the chance to send the game into overtime late, but Buddy Hield missed a potential game-tying free throw.
Nikola Jokic finished one assist shy of a triple-double as he led the Denver Nuggets to a 123-101 demolition of the Chicago Bulls.
There were also big wins for the Houston Rockets, Atlanta Hawks and Minnesota Timberwolves.