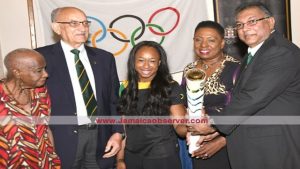 Global superstars Usain Bolt and Shelly-Ann Fraser-Pryce will headline Jamaica's largest ever contingent of 59 track and field athletes to an Olympic Games, after they were listed among 63 athletes named for the XXXI Olympic Games set for Rio de Janeiro, Brazil, between August 5-21.
Jamaica will be represented in three sporting disciplines — track and field athletics, swimming and gymnastics — but will also have three officials on duty in tae kwon do, triathlon and badminton. Of the 63 athletes, 44 will be attending their first Olympic Games.
Swimmers Alia Atkinson and Timothy Wynter will participate in the 100m breaststroke and backstroke, respectively, while Yona Knight-Wisdom, who is set to compete in the 3m springboard, is only the second Jamaican diver following Betsy Sullivan in 1972. Toni-Ann Williams will be Jamaica's first gymnast to the Olympics.
Vishwanaught Tolan, who is the Chef de Mission of Jamaica's Olympic team, made the announcement yesterday at the Jamaica Pegasus Hotel, dubbed 'Operation Rio 2016'.
"This will be our largest contingent of track and field athletes ever to the Olympics. There are some very popular names that include persons like Shelly-Ann Fraser-Pryce and Usain Bolt. There are other big names as you can see and based on the recent JAAA trials the team picks itself," said Tolan.
Bolt will be looking to successfully defend his 100m, 200m and 4x100m relay titles, while Fraser-Pryce will be hunting an unprecedented third 100m Olympic crown.
Jason Morgan, who has the national discus record of 68.19m, was the only notable absentee, having achieved the Olympic qualifying mark in 2015. He has a season best throw 63.11m, which is below the 65m qualification mark and was fourth at the National Championships with 59.08m.
Fedrick Dacres was the only discus thrower selected, while O'Dayne Richards was the only shot putter. United States-based Aisha Praught, who did not participate at the Jamaican National Senior Championships because of a lack of sufficient entrants for the 1,500m, was named on the team. The Jamaican delegation of 26 includes medical officials, coaches and administrators.
"As to manoeuvre the athletes let me assure you that we will be adequately staffed with the following persons to assist the management. Four doctors, two physios, four masseurs. There will also be six coaches, along with three team leaders for track and field," Tolan added.
With Jamaica participating in just three sporting disciplines, there will be three pre-Olympic training camps leading to the start of the Olympic Games. Toni-Ann Williams' gymnastic camp will take place both in Jamaica and Rio, and she is expected to arrive in the athletes' village on August 2. The Opening Ceremony is August 5, and Williams will get the ball rolling for Jamaica on August 6.
The camp for swimming has also been organised and will take place in Rio between July 20-August 3. Atkinson and Wynter will splash off on August 7 at the Olympics Aquatics Centre.
The pre-Olympic training camp for diving will take place in Tallahassee, Florida, from July 23 to August 1, and Knight-Wisdom will arrive in the village on August 2 and be in action on August 15 at the Maria Lenk Aquatics Centre.
The pre-Olympic training camp for athletics will take place in Rio from July 24 to August 3 at the Brazilian Naval base. The team will break camp on August 3 to depart for the Games village. Track and field starts at the Joao Havelange (Olympic) Stadium on August 12 and runs through to August 20. The opening ceremony will be on August 5 at the Maracana Stadium, which will also host the closing ceremony on August 21.
Sponsors GraceKennedy will be covering the cost of nutrition and will be providing a chef to travel with the team. "How nice will it be for our athletes in Rio, getting ackee and salt fish, porridge, and all the necessary Jamaican foods. The team will be in Rio and will not be missing home," said Tolan.
Jamaica will be hoping to better their 12-medal haul from the London 2012 Olympics, when they landed four gold, four silver and four bronze.