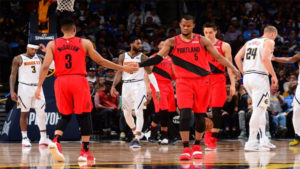 Even with Damian Lillard posting easily his worst game of the postseason, the Portland Trail Blazers still found a way.
The Blazers topped the Denver Nuggets 97-90 on Wednesday to even their second-round series at 1-1, riding some strong defense — or some cold Denver shooting — to their lowest-scoring win of the playoffs.
The Nuggets shot just 35.1 percent in front of their home crowd, with no player topping more than 16 points. On the Blazers' side, Lillard finished with only 14 points on 5-of-17 shooting, but C.J. McCollum's 20 points and some timely shots carried the load.
It wasn't the prettiest of games on either side, and Nuggets star Nikola Jokic seemed to think the loss was due more to his team's lack of execution than the Blazers' play.
Of course, there could also be some hard feelings after what happened in the game's final minute.
A physical game eventually turned to a heated confrontation in the game's final minute when Blazers center Enes Kanter accidentally knocked over Nuggets forward Torrey Craig, who was wearing a facemask after briefly exiting the game with an injured nose.
Dueling technical fouls were handed out after Kanter and Jamal Murray had to be separated at halfcourt, which at least matched what was happening in the crowd.
The Nuggets home crowd let Kanter hear it after the confrontation. One fan crossed a line by referencing Kanter's dispute with Turkish dictator Recep Tayyip Erdoğan, which has caused Kanter to be cut off from contact with his family.