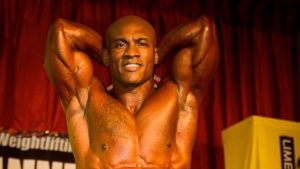 Former winners of the National Bodybuilding Championships, Ollyn Martin and Orson Martin, will not compete in this year's event, which is slated for August 27 at the Grand Royal Antiguan Resort.
This was revealed by the president of the Antigua & Barbuda Bodybuilding & Weightlifting Federation, Jamila Jonas, who added that another former winner, Franklyn "Frankie" Browne, will make his return to the arena.
Athletes preparing for the competition, she said, are busy preparing to make the show a memorable one.
"I was visiting the gym for the most of this week and they are working hard and they look like they are ready. They are doing their usual, they're covering up so you can't really see them but they are all working very hard," she said.
A total of 48 athletes will compete in the championships which Jonas said has shown an overall increase in the number of participants. "It was 49; one is injured unfortunately, so he had to drop out but the most we had last year was 40 and before that, it was 34.
"Figure class has more competitors and what has happened is because some of these people have gone to regional competitions. I think that their conditioning overall is even better," she said.One major change going into the August 27 show is that patrons must purchase their tickets in advance.
That stipulation, Jonas said, resulted from overcrowding concerns at last year's event. "We had to go back to Grand Royal Antiguan because there is really nowhere else to go but what we are doing is reducing our numbers, [because] last year we had an overcrowding Continued on page 26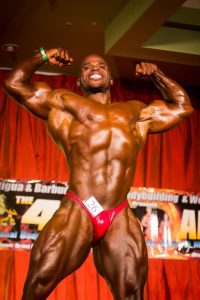 Bodybuilding from page 32
problem and everybody was really uncomfortable, so we are selling our tickets in advance only. We have to do that because even the fire marshal said we had too many people in that place.
We are targeting 700 spectators this year," the bodybuilding head said. Kenny Jacobs won the 2015 bodybuilding title.
The lightweight bodybuilding title went to Elvis Bailey, male physique champion was Justin Smith, female physique winner was Beverly Percival-Tonge, and Pamela Belle topped her competitors in the female fitness section.
Both Rosian Warrington (body-fitness) and Kimberly Ephraim (bikini) also won, holding onto their 2014 crowns, while Alfred Jarvis took the over-40 – or Masters class – bodybuilding crown.