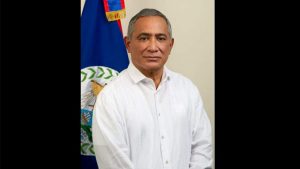 Opposition Leader, Shyne Barrow, has confirmed filing a motion of no confidence in Prime Minister of Belize, John Briceño.
"I submitted today to the clerk of the House of Representatives, according to the Standing Orders, a private member motion. I wish we will take a vote of no confidence on the Prime Minister of Belize and his government."
Barrow said that the move by the opposition to file the motion comes in the wake of the controversy surrounding the Portico Definitive Agreement.
Last month, the government issued a statement indicating that Prime Minister Briceño had informed the nation that the Portico Definitive Agreement, authorised and executed by the previous United Democratic Party (UDP) administration in 2020, "was not in the best interest of the people of Belize and would not be proceeded with.
"This decision was reached after an informed discussion in Cabinet and after receiving legal advice from multiple attorneys of international repute," the statement said, adding that Cabinet had further determined that the government should proceed to meet with the parties "with a view to negotiate or develop a new arrangement in an open and transparent manner that would serve the best interest of the people of Belize".
The statement said that in June, the Royal Caribbean Group, highlighting the shortcomings of the existing cruise infrastructure in Belize, "reiterated its commitment to significantly increase its contribution to Belize's tourism economy.
"The government is encouraged by this continuing commitment as it seeks to enhance the economic opportunities for and the quality of life of the people of Belize by encouraging real meaningful investment that supports long-term sustainable human development."
But Barrow told reporters that the motion would outline "the malfeasance, the nonfeasance of the prime minister in regards to the Portico Definitive Agreement, as has been listed out there, his cousin being the attorney for Portico Enterprises Ltd.
"His Minister of State in the Ministry of Finance and his Minister of Immigration have a law firm called Courtenay and Coye and they represent the chief executive officer of Portico in his personal interest," Barrow said, adding that "all of the allegations of nepotism, cronyism, self-enrichment that have engulfed the Briceno administration in relation to Portico".
Barrow said that the Special Senate Select Committee to investigate the genesis of the Portico agreement "all the way to the confidential cabinet Memorandum 84 being submitted by the prime minister who is the Minister of Finance, and as he has said, "the buck stops with him."
"You can't blame Christopher Coye. And that is where we started with that saga and the evidence unfolded that the prime minister lied, he said that when he was asked about legal advice, he and the minister said they were seeking legal advice," Barrow said, noting that the statement was not true.