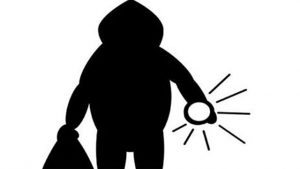 Police are investigating a report of Building Breaking and Larceny which occurred at Caribbean Refill situated at Fort Street in the vicinity of the Skeritt's building Police inquiries revealed that the owner secured his business at about 4 pm on January 26th 2017 and left.
He returned to his business at about 845 am the following day on January 27th 2017 and as he entered his business he observed the showcase that contained cell-phones and accessories was empty. He proceeded to check and discovered a hole in the roof of his building.
Some unknown persons(s) unplugged the security camera and used some degree of force to pry up the galvanize and wooden roofing to gain entry into the back of the building. Having done so the intruder(s) broke off a portion of a wooden inner door that secured the business/front section of the premises and stole a number of cell-phones and tablets out of a showcase.
Video footage is being collected but so far the Suspects are not known. The thieves exited from the store at the point of entry.
The scene was processed by Crime Scene Unit. The Investigation continues.