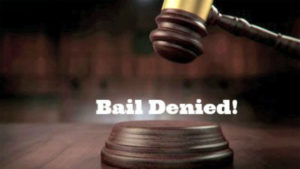 The young man charged with the attempted murder of Raheem "Pipe" Francis has been remanded to Her Majesty's Prison.
24 year-old Glenroy "Ballie" Samuel of Conaree was charged on Wednesday for the April 20 stabbing incident that left 22-year-old Francis hospitalized for a life threatening wound to his abdomen.
According to reports, Francis, a player for Rams Village Superstars and Samuel, a member of Sol Island Auto Island Conaree football club, had a small altercation on the field during a match at Warner Park on Saturday evening.
When the match ended, Francis was leaving the stadium in the company of another male when Samuel attacked and injured him, then hopped into a waiting vehicle and fled the scene.
Freedom FM has confirmed that police did attempt to locate the alleged perpetrator that same night without success. Samuel turned himself in to police the following day accompanied by his mother.
Samuel, represented by Ogrenville Browne, went before the magistrate court on Wednesday. The magistrate denied bail until next week when the accused is scheduled to return to court.
Meanwhile the St. Kitts Nevis Football Association rescheduled Wednesday's Easter Cup finals match to this Saturday, and indicated in a statement Wednesday that it has "already convened an emergency meeting at which sanctions have been imposed against the parties involved, the details of which shall be made public very shortly."
Speaking on Freedom FM's Issues program on Wednesday, Konris Maynard, parliamentary representative for the Village area and supporter of the Village Superstar cautioned against retaliation for the stabbing. He wished the Village Superstars success in Saturday's finals, especially considering their frame of mind following the after-game violence just one week ago where they almost lost a teammate.
"The FA has put off the games that were to be played [Wednesday] which the Village Superstars were to play, but in reality the players were not quite ready to go back onto the field. I believe the Eater Cup finals have been postponed until Saturday and I want to wish the Village Superstars Club every success as I can only imagine how difficult it might be going back onto the field. You have to appreciate that they were just on the field playing against a team and we consistently say that anything that happens on the field but it came off the field on Saturday and so the players have to deal with that.
"I want to to give credit and applaud the Superstars team because yesterday [Tuesday] we invited a specialist to assist in the counselling of the team to assist in this process in understanding that these things are extraordinarily painful and hurtful to deal with.
MP Maynard went on, "It is very important for the players and community to understand that this is not a time for revenge or retaliation because that would only make the situation worse. We have two communities and the larger communities that are hurting. What we need right now is the healing process; what we need is to see that Raheem "Pipe" Francis has all the support he need at this particular time.
"This is real- a player was fighting for his life for no reason whatsoever. There is nothing that could have been said on the field, no call that could have been made that would justify an act like this. And I encourage the teams in football around the country to use this opportunity as a learning exercise and ensure that your players, staff, executive and the fans understand what conflict resolution is and how to go about it especially for the players so they know there are other ways to resolve a conflict on the field rather than resorting to violence. So I believe that it should be a wholesome approach where we use this as a learning moment so that we will never be in tis situation again and do everything we can to prevent it.