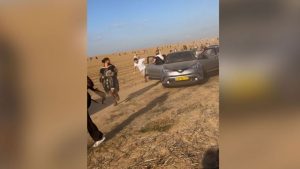 Israel's Prime Minister Benjamin Netanyahu said the country is "at war" following the surprise attack from Hamas early Saturday morning.
"Citizens of Israel, we are at war — not in an operation, not in rounds — at war," Netanyahu said in a video message.
At least 260 bodies have been found at the site of an Israeli music festival following Saturday's attack by Hamas, according to Israeli rescue service Zaka.
Hamas gunmen shot at fleeing attendees and took others hostage at the festival in a rural farmland area near the Gaza-Israel border, according to social media videos and accounts from festivalgoers.
The terrifying attack was just one of multiple locations hit on Saturday morning by the most sustained and coordinated assault inside Israel ever carried out by Hamas, the Palestinian militant group designated as a terror organization by the United States, European Union and Israel.
The outdoor Nova Festival event was supposed to be an all-night dance party, celebrating the Jewish holiday of Sukkot.
Islamic Jihad says it is holding 30 hostages in Gaza
From CNN's Ibrahim Dahman, Abeer Salman and Mohammed Tawfeeq
Islamic Jihad — a militant Palestinian faction which has also carried out terror attacks in Israel — is holding at least 30 hostages in Gaza who were captured Saturday, according to the group's secretary general, Ziyad al-Nakhala.
The group is calling for Israel to release some of its fighters in exchange for the hostages' release.
"The Islamic Jihad Movement currently has more than 30 prisoners, and they will not return to their homes until our prisoners are liberated," al-Nakhala said in a recorded, televised speech late Sunday.
Some context: Islamic Jihad and Hamas are separate organizations, but they both operate in the Gaza Strip and they are aligned in their opposition to Israel.
The total number of hostages taken during Hamas' assault this weekend is not yet clear, but Israeli officials have said there are dozens of captives.
At least 3 Americans killed in attacks in Israel near the Gaza border, according to government memo
From CNN's Priscilla Alvarez
At least three Americans have been killed following the attacks in Israel close to the Gaza border, according to an internal US government memo reviewed by CNN.
Earlier Sunday, Secretary of State Antony Blinken told CNN the US had received reports of missing and dead Americans, and the administration was working "overtime" to verify.
The internal memo says the State Department is aware of three US citizens killed in the Gaza periphery, as well as additional Americans who have not been accounted for.
CNN has reached out to the State Department for comment.
The US embassy in Jerusalem, meanwhile, has also updated its contingency planning "for any potential evacuation by land or air," according to the memo. On Saturday, the embassy issued a "shelter in place" for embassy personnel after Hamas launched its surprise attack.
More than 400 Palestinians killed and 2,300 hurt since Saturday, according to health ministry in Gaza
At least 413 Palestinians have been killed, including 78 children, and 2,300 others wounded in Gaza since Saturday, the Palestinian Ministry of Health said.
Power cuts in the territory pose "a big challenge for the medical sector," the ministry said, threatening the lives of hundreds of others who need treatment.
Key context: Israeli Prime Minister Benjamin Netanyahu declared Saturday that Israel will halt the supply of "electricity, fuel and goods" into the Gaza Strip, although military spokesperson Lt. Col. Richard Hecht said Sunday only electricity had been cut.
Since then, power is only available for an average of four hours per day, down from the usual eight hours.
Israel has formally declared war on Hamas, which controls Gaza, after the militant group's surprise attack Saturday. It has been pounding the territory with airstrikes since.
Israeli ambassador says Hamas has committed "blatant, documented war crimes" and calls on UN to act
srael's Ambassador to the United Nations Gilad Erdan has demanded the United Nations Security Council condemn the "ruthless terror attacks" by Hamas against Israel.
"Israel has one, sole demand. Hamas' war crimes must be unequivocally condemned. This unimaginable atrocity must be condemned. Israel must be given steadfast support to defend ourselves. To defend the free world," Erdan said, speaking to reporters ahead of the Security Council's emergency meeting on the situation in the Middle East on Sunday.
"In the wake of the Holocaust, the world swore, 'never again,'" he continued. "This very body, the UN, was established on the ashes of the Holocaust. Yet yesterday, we watched as hundreds of Jews were massacred in cold blood. This is a 'never again' moment."
"Today, many members of the international community are supporting Israel," he told reporters. "But if history has taught us anything, we know that tomorrow that may not be the case," Erdan said, adding "the UN, the Security Council, have a very short memory when it comes to Israel."
The ambassador said the reports and videos depicting Hamas' kidnapping and killing of Israeli citizens are "blatant, documented war crimes."
"What we are witnessing are war crimes, blatant, barbaric war crimes," Erdan said. "Slaughtering civilians, using hostages, taking babies from their mothers. There are no words to describe such savagery."
Erdan condemned Hamas as a "genocidal Islamist jihadist terror organization," saying it is "no different than ISIS." The Palestinian militant group is designated as a terrorist organization by the United States, European Union, Israel and other countries.
"Israel is at the forefront of the war on terror," Erdan told reporters.