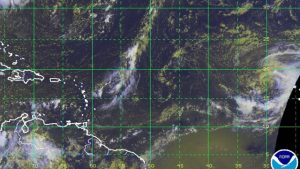 The system that was Tropical Storm Julia has been downgraded to a tropical depression but there's another depression that could become Tropical Storm Karl in the days ahead.
Tropical Depression 12 formed off the African coast and is moving away from the Cabo Verde Islands. With maximum sustained winds near 35 miles per hour, it is just on the threshold of becoming a named storm.
But in its 5 a.m. advisory, the National Hurricane Centre (NHC) in Miami said it won't strengthen much during the next 48 hours. By weekend or early next week, however, it could be strong enough to be Tropical Storm Karl.
Whether it will have any impact on land is still to be determined.
"It's too early to tell at this point whether the system will impact the Lesser Antilles and Virgin Islands sometime next week," AccuWeather Hurricane Expert Dan Kottlowski said.
A track north of the Caribbean Islands may favour strengthening and could mean a potential impact to the Bahamas, Bermuda or the US east coast. A track farther south over the Caribbean would bring heavy rain to the islands but could shred the storm apart as it interacts with higher terrain.
This system joins Tropical Storm Ian and Tropical Depression Julia in the Atlantic Basin.
Ian, which was more than 700 miles east northeast of Bermuda this morning, still poses no threat to land, while Julia is continuing to meander offshore the Georgia and southern South Carolina coastlines.