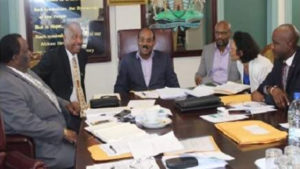 The Vice Chancellor of the University of the West Indies (UWI), Sir Hilary Beckles, has held talks with the Antigua and Barbuda government regarding the opening of the Fourth Landed Campus of the regional tertiary institution.
Government says that the Five Islands Campus should be opened in September with at least 1,000 students and according to a Cabinet statement issued here, the Vice Chancellor of the University of the West Indies, was invited to Cabinet to announce the pending decision of the Accreditation Council.
"The Fourth Landed Campus of the University of the West Indies—the Five Islands Campus—is to be approved when the Council next meets in two weeks. The amount required annually, the Council will determine, is likely to be met by the Antigua and Barbuda authorities; the infrastructure is also in place to meet the tailored financial capabilities," the statement noted.
"There is only one factor that could delay the opening…the only thing that could delay the opening, and it won't delay because the entire Cabinet was involved in the discussions yesterday, was the IT (information technology) infrastructure," Information Minister Melford Nicholas told reporters.
He said Antigua and Barbuda is better prepared for the launch of its campus than had been the case when the campuses were launched in Barbados and Jamaica more than 53 years ago.
"We are starting also with a greater strength of alumni," he added
The Cabinet statement noted that the discussion also focused upon staffing, meeting student satisfaction, building sporting facilities, and approaching friendly countries for assistance with expanding the university, noting "these topics were also addressed by the Cabinet and the Vice Chancellor".