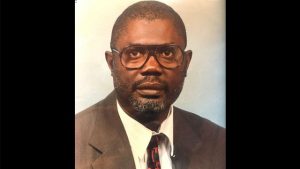 Condolences have been pouring in following the passing of James Tanny Rose, who was a dedicated community activist and long-standing member of the Antigua and Barbuda Labour Party (ABLP).
He was 77 years old.
Reports indicate he passed away at the Sir Lester Bird Medical Center (SLBMC) on Monday.
The Office of the Prime Minister in a statement said it has learned of the death of James Tanny Rose, aka the Voice of the Oppressed and Downtrodden, and expresses condolences to his family, friends and all those who regarded him highly for his political pronouncements.
The OPM says 'Tanny Rose set out to win hearts and minds by his almost daily presentations on several radio talk-shows, and succeeded brilliantly by his persistence and clarity. He was considered dangerous by those whom he opposed, and loved by a thousand others for the same reason. He could think and he could speak, and he was relentless in his ambition.'
Rose was one of Antigua and Barbuda's most effective Radio Talk-Show presenters on account of his keen intellect and incisive examination of issues that resonated with all. He was a self-appointed activist who, for 10 years, was unrelenting in his pursuit of the return of the Antigua and Barbuda Labour Party to electoral victory.
Rose was described as being fearless and undeterred by criticisms.
"He believed that his cause was pure and his mission righteous. He told Prime Minister Browne, with whom he enjoyed a mutual friendship, that he evidenced the leader's genuine love for the people of Antigua and Barbuda, which ennobled his pursuit and defense of the Government which he helped to win re-election."
The OPM says Rose made history and has helped to shape an emerging Antigua and Barbuda, on the verge of its 42nd Anniversary of Independence.
Meanwhile, the Chairman and the leadership of the Antigua and Barbuda Labour Party (ABLP) says it is saddened by the tragic news of James Tanny Rose's passing.
"Our hearts ache as we grieve the loss of a dear and esteemed comrade, whose invaluable contributions to both our cultural and political realms have left an indelible mark. The void left by his absence will be deeply felt by all who had the privilege of knowing him."
The ABLP says it's eternally grateful for the tremendous legacy that James Tanny Rose has bestowed upon them and that his unwavering dedication and tireless efforts in advancing the nation's progress will forever be remembered.
In addition, the Executive Committee and staff of Antigua Trades and Labour Union issued condolences to the family of James Tanny Rose. The Union notes he led the union as General Secretary from 1976 to 1979.