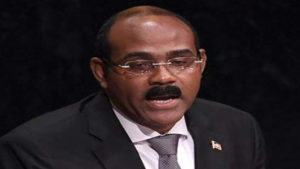 The Antigua and Barbuda Labour Party (ABLP) has unveiled its 2023 General Election manifesto.
Speaking at the launch today, Prime Minister Gaston Browne said the manifesto contained: "No pie in the sky promises meant to coerce and deceive".
The manifesto's theme is "Next Level of Progress and Prosperity for all".
The 136-page manifesto is the largest in the ABLP's history.
Some of the key pledges in of the ABLP are no increases in the personal income and sales taxes, reduced electricity and water rates and the removal of taxes on security systems and alternative green energy products.
The ABLP gave a commitment to increase the wages and salaries of public servants and will resume talks with unions this week. Browne hopes to reach a settlement shortly after the election.
Browne said his government has been tried and tested over the last eight years, which included challenges from the coronavirus pandemic and a hurricane, and managed to exit as one of the best performing economies in the Caribbean.
The prime minister said there will be a number of major foreign investments in the country over the next few years to ensure every Antiguan and Barbudian can find a job.
Browne urged the electorate to consider his government's plans and their terms in office and compare them against the ABLP's rivals when casting their ballots on January 18.