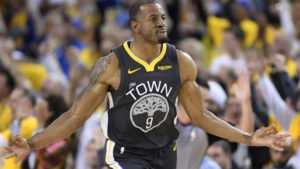 The success amassed by the Warriors dynasty is often divided equally between the players' unselfish nature and coach Steve Kerr's ability to manage their superstar personalities. While that shouldn't go unnoticed, most NBA fans understand that Golden State wouldn't be the storied franchise it is today without the foundation laid by their former coach, Mark Jackson, during the team's rebuilding phase. As a result, people have started to wonder why Jackson hasn't received a coaching job since being fired in 2014. For Andre Iguodala the answer is simple; the league has purposely blackballed Jackson.
During an interview with The Breakfast Club on Tuesday, Iggy went into detail about the "politics" that continue to prevent Jackson from gracing an NBA sideline.
"It was the politics," the former Finals MVP said. "Once they want you out they're going to find something." He then went on to explain the scapegoats Golden State and the NBA used to push Jackson out.
"So it was the church in the facility…On Wednesday night service he would set up a computer and he'd just preach," he explained. "One particular issue—from what I heard—were his views on gender or marriage or what the Bible said on your sexuality."
While some could argue that these views are not socially progressive, it's hard to see how that correlates to a coaching issue. This led Charlamagne tha God to bluntly ask if he believes the NBA blackballed Mark Jackson, to which Iggy firmly responded: "I do."
Iguodala's candidness did not stop with his views on Jackson. He also described how race impacts NBA players, particularly the pressure black players feel to support their family and friends as opposed to their white counterparts.
"Kyle Korver had a big article about it," he began. "[Kyle and I] were teammates and I remember he and I were in a meeting and we were talking about finances…and I was like, ' I take care of my mom, my brother, cousin, uncle, grandma,' and he was like, 'You pay your parents bills?! Why would you do that?!' Because that's not their culture., and we're looking at him like 'You don't help your mom out?' But that's not how they're raised. So when we're on the court that's our peace, because when the game's over he's got to go back to the madness."