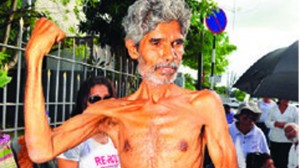 Sylvia Moodie-Kublalsingh, the wife of hunger striker Dr Wayne Kublalsingh, has hit out at critics who believe her husband has been eating and drinking during his second hunger strike in protest over the Debe to Mon Desir section of the extension of the Solomon Hochoy Highway to Point Fortin. "To all those who have been affirming with such conviction that my husband has been consuming water or food, I invite you to speak to me personally before making statements about things you know nothing about," Mrs Moodie-Kublalsingh said in a letter to the Express editor yesterday.
She said the last 32 days of the Highway Re-Route Movement leader's protest have taught her a lot about the "very strange" people of Trinidad.
"I have less respect than ever for those fellow citizens who have disrespected my husband and the seriousness with which he has subjected his body to the agony of hunger. Even though I myself do not support hunger strikes, I have had to respect his wish.
"I have witnessed and admired his discipline and strength to go through the process of voluntary deprivation of drink and food with an almost super-human fortitude that I would never have believed possible. I just pray to God that he survives," she stated.
Moodie-Kublalsingh then trained her guns on those in "leadership positions": "When I listen to many of the people in leadership positions in our country I realise they are not genuine. They play games. They are not truthful. They are opaque and deceptive. They contradict themselves. They obey two masters who are pulling them in different directions. I can only remain hopeful that one day the truth will be revealed."
As to her husband's ability to survive more than 32 days without food and water, Moodie-Kublalsingh maintained her husband has trained himself to do so.
She explained that food was never "that" important for Dr Kublalsingh and he has never over-indulged but has spent one day a week fasting for years.
She added that her husband has been able to go without breakfast when he devoted the first hours of the day to his writing.
"He trained himself well without supervision and no one could deter him from doing what he was resolute in achieving. I just let him be and ate alone. He is strong-willed and disciplined. He remains on course until he reaches the end of the particular task or journey," she stated.
"I am here with him every day and night after he returns from Port of Spain. I cannot understand how he can survive without water or food—no fruits, nothing to drink, nothing to eat, hour after hour, day after day, night after night. This extraordinary, amazing man has been walking, talking and thinking very clearly in a normal manner. He lies down, he sits at his computer. He lies down again. He asks us if we have eaten and says that it is okay if we eat in front of him, which we are loath to do."
She added that she is scared of the possibility of her husband's body collapsing dramatically and that at nights she is most afraid for his life, because when he lies still on the bed she is unsure of what is happening to his body.
"I don't want to wake him because he needs as much rest as possible. However, I want to be certain that he is alive and well. I try not to worry. I try to hold on to the faith that he will be all right. He has survived for the past 32 days. How much longer can he last? He will last. He will," she added.
Moodie-Kublalsingh ended her letter by describing her husband as a true patriot who wants nothing for himself but the best for his country.