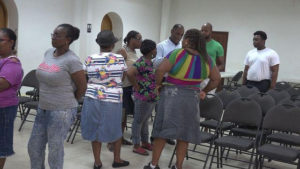 Close to 300 of the Four Seasons Resort, Nevis workers who were affected by the temporary closure of the hotel have collected their assistance cheques from the Nevis Island Administration.
The NIA had announced Sunday that on Wednesday 361 of the workers would receive a one-time payment of $1000 each to help with their back to school expenses.
Colin Dore, Permanent Secretary in the Ministry of Finance, was on hand at the St. Paul's Anglican Church Hall in Charlestown on Wednesday to assist the Treasury Department staff with the distribution of the cheques.
He told Freedom FM that although most of the workers turned up on distribution day, others have yet to collect their cheque.
"We started with 361, and the tally count just before we closed was 86 cheques left so I would say about 275 were collected. Those who haven't collected can do so at the Treasury at their convenience."
Leader of the Opposition Nevis Reformation Party Robelto Hector chided the NIA for waiting so late to offer the financial relief and insisted the payment was made under political duress.
Premier Brantley told Freedom FM that the payout process went smoothly and he is happy the NIA could have provided the financial assistance to the affected persons.
"The payout went very well I am advised. I am happy that we could have provided this measure of relief to the affected workers and look forward to their return to work on September 16, 2019 and to the reopening of the Resort on October 1st, 2019 as the owners and management have committed to."