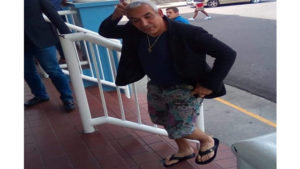 Coca-Cola bottling heir Alki David appeared in a St. Kitts court Monday to answer to drug charges laid against him in May.
David had been arrested at the R L Bradshaw International Airport on May 7 when he arrived in St. Kitts on a private plane carrying over a million dollars' worth of cannabis plants and seeds.
David was charged with Possession with Intent to Supply, Possession of Controlled Drugs and Importation of a Controlled Drug into the Federation and eventually released on $600,000 bail.
The 50-year-old said the seedlings were sample plants intended to start growing marijuana for cannabis products. The incident made international headlines after David made not-so veiled threats against Prime Minister Timothy Harris in local media and social media rants.
The importation, use and possession of cannabis was at the time illegal in the federation. Cannabis related legislation has since been amended to decriminalize small amounts of marijuana for recreational, medicinal and religious purposes.
David has been bound over for trial in February, he is represented by attorney Jason Hamilton.