Rio de Janeiro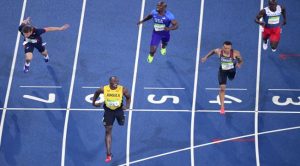 , Brazil — Usain Bolt easily captured the men's 200m in 19.78 seconds (-0.5 m/s) and secured his eighth Olympic gold medal while staying on course for an unprecedented 'treble triple' in his pursuit of immortality.
Bolt, who had completed a third consecutive 100m crown on Sunday, did likewise in his favoured 200m, an event in which he has been unbeaten over the last nine years dating back to 2007.
Thoughts of a world record attempt to lower his 19.19secs mark to below the unimaginable sub-19-second video-game time quickly disappeared when the clouds opened up, followed by chilly gusty winds.
Bolt, who is looking to repeat his achievement of winning gold in the 100m, 200m and 4x100m relay at both Beijing 2008 and London 2012 Games, is one step closer.
And as he has done on so many occasions, Bolt entered the arena to loud applause and music, and he obliged with his usual pre-race entertainment. As the camera focused on him during the introductions, the global superstar uttered the words: "Are you ready?" And the fans erupted.
Running out of his favoured lane six, the man from Sherwood Content in Trelawny flew out of the blocks and swept past both France's Christophe Lemaitre and Churandy Martina of the Netherlands in a flash before angling himself around the curve. The race was basically done and dusted and it was then a matter of Bolt against the time.
But the world record was never going to happen as the rest of the pack appeared too close to the far-striding giant. They were six metres behind, headed by Andre De Grasse of Canada, who notched his second medal, this time silver in 20.02 seconds. He had won bronze in the 100m on Sunday.
Lemaitre ran the race of his life for bronze in 20.12secs, and he threw himself to the ground in disbelief. Adam Gemili of Great Britain clocked the same time as Lemaitre, but was denied his first Olympic medal in the photo finish. American hope, LaShawn Merritt felt what real 200m pace was like and faltered into sixth in 20.19 seconds.
But as the time of 19.78 seconds flashed across the infield, Bolt clearly in disappointment, dropped his hands to his side. His legacy was secured, but a world record was not.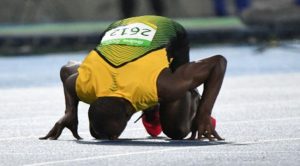 "I was not pleased with the time; I really wanted to run faster, even if I didn't get the world record. I wanted to run faster but my legs decided [they weren't] having it. I felt tired, and I lost my form in the last part of the race. It's just one of those things. The key is that I won," Bolt noted.
The 200-metre final went as scripted, as Usain Bolt became the first man in history to win both 100m and 200m titles at three-consecutive Olympics.
Bolt then went through his celebration, proudly wrapped in the black, gold and green flag of Jamaica and a Brazilian flag to boot. He kissed the running track and waved to his adoring fans after competing in his last individual event at the Olympic Games.
"I was just saying goodbye. This is my last individual event at the Olympics. In relays you never know what happens. I just wanted to say goodbye," confirmed Bolt.
It was Bolt's eighth Olympic gold overall. It is Jamaica's fifth gold and seventh medal at the Rio edition. With a population of just under three million, Jamaica climbed into second place on the track and field table, inclusive of two bronze.
The USA lead with 25 made up of nine gold, eight silver and eight bronze. Long distance powerhouse Kenya are third with eight medals, inclusive of four gold and four silver.
On the overall medals table, Jamaica are in 15th position, with USA being the runaway leaders with 100 medals, including 35 gold, 33 silver and 32 bronze. Jamaica have not won any medals outside of track and field.