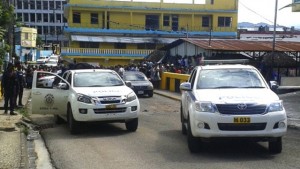 MONTEGO BAY, St James — The Independent Commission of Investigations has been called on to probe the shooting of four men, three fatally, who allegedly engaged members of the St James police in firefights in two separate incidents in the parish between Saturday evening and yesterday afternoon.
The latest incident took place yesterday afternoon about 2:00, when the police challenged two armed robbers who were making off with a bag of money which they stole from a wholesale operated by a Chinese businessman on Orange Street in Montego Bay.
The robbers, who were signalled to stop, allegedly started shooting at the cops, who took evasive action and returned the fire. After the smoke cleared the robbers were found suffering from gunshot wounds. They were taken to the Cornwall Regional Hospital where one was pronounced dead, while the other was said to be undergoing surgery at news time.
Two illegal firearms were recovered from the two men.
The police also reportedly recovered a portion of the money that was stolen.
The incident followed Saturday afternoon's deadly shooting of two men in the tough Flanker community in the parish by members of the Jamaica Constabulary Force, with whom they reportedly had a confrontation.
One of the deceased has since been identified as Shayon Lawrence of a Flanker address. Meanwhile, the unidentified man, who reportedly sported a cornrow hairstyle, is said to be about five feet, nine inches tall, of a dark completion, and is believed to be in his mid 20s.
The police say he was clad in a white T-shirt and a pair of green trousers.
According to the police, on Saturday at about 5:50 pm, a police team was in the Flanker community where they had a confrontation with four gunmen who opened fire at them. The fire was returned and two men were shot. They were taken to the Cornwall Regional Hospital where they were pronounced dead.
Two illegal guns were also recovered by the police during the incident.
Meanwhile, the police say two of the men escaped in the community on foot