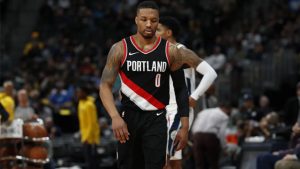 For all the speculation surrounding the Portland Trail Blazers — Monday's meeting between general manager Joe Cronin, Damian Lillard and his agent, Aaron Goodwin, only added to the noise — there's been little chatter of substantive movement for the Blazers outside of Portland's well-known intention to re-sign versatile forward Jerami Grant.
The Blazers were resistant to trade the No. 3 overall pick that became Scoot Henderson, league sources told Yahoo Sports, for any return outside of packages that would have netted a select group of second stars to pair with Lillard. Even after dangling the No. 23 pick in last Thursday's draft, Portland stood pat and chose Iowa forward Kris Murray, the identical twin of Sacramento standout Keegan Murray, who helped the Kings right away as a starter last season. Now Portland appears to be moving forward into the offseason quite similarly to how Brooklyn proceeded last summer following Kevin Durant's trade request that came an hour before free agency.
The Blazers don't appear to be in panic mode to restructure their roster around Lillard. Far from it. Portland officials believe that a strong offseason of additions will further reinforce Lillard's longstanding commitment to the franchise and essentially call Lillard's bluff — like the Nets did with Durant — even if Lillard hasn't played his trade request trump card just yet — and maybe never will. What additions are coming for Portland is a little more challenging to figure out.
There's been plenty of other trade conversations across the league, most notably with the Houston Rockets continuing to gauge rival teams' interest in young players like K.J. Martin, Usman Garuba and Josh Christopher on Tuesday, sources said. The Hawks, as another example, have made well-known contact with various teams about De'Andre Hunter. The Clippers continue to canvas the league, seeking what a trade package of Marcus Morris and Norman Powell can return to Los Angeles, sources said. But there's yet to be any type of list forming for teams interested in Portland's best trade asset at the moment: 24-year-old guard Anfernee Simons, who's entering the second season of a four-year, $100 million contract. There were brief discussions with Cleveland about Portland forward Nassir Little before the draft unfolded, sources said, but no deal structure ever gained real traction there. An expected increase in league-wide trade calls Wednesday and Thursday before free agency opens Friday night can certainly bring more developments for the Blazers.
The most consistent Portland rumbling around the league isn't even about Portland necessarily, but the Miami Heat's patience for Lillard to actually seek a new destination prior to the 2023-24 season. But before that bridge is crossed, and if Lillard never truly wavers in his commitment to the Blazers, the Heat have their own wonky accounting to navigate this summer. After an expensive roster started and stopped its way to the eighth seed in the Eastern Conference and then ripped off a momentous run to the NBA Finals, Miami needs to consider how to improve around Jimmy Butler and Bam Adebayo while standing dangerously close to the second tax apron — especially after Victor Oladipo exercised his $8.75 million player option for this upcoming campaign. For potential external targets: Christian Wood continues to be mentioned by league personnel as someone on the Heat's radar.
At this juncture, Max Strus, a career 37.1% 3-point shooter over three seasons with Miami, appears headed out of South Beach on the open market. There are several teams often mentioned by league personnel as Strus suitors, from those with cap room like Detroit, Indiana and Orlando, to teams that have the full mid-level exception like Cleveland, and others that are working to get under the first tax apron and gain access to that $12.2 million salary slot. The Cavaliers are looking at all kinds of wing targets, sources said, from Strus to Kelly Oubre to Georges Niang. There appears to be enough of an interest in Strus around the NBA that league figures aren't expecting the DePaul product to return to Miami, and Strus sounds likely to command above the full mid-level in average annual salary when everything's said and done.
Gabe Vincent, the Heat's other key free-agent starter from their underdog run, has a strong opportunity to return. Vincent has generated plenty of interest around the league, but some of his possibilities elsewhere, as is the case with many of the forwards on this summer's open market, have already dried up. Vincent would have been on the Suns' shortlist of targets for the mid-level if Phoenix was unable to move Chris Paul and forced to stretch-and-waive the veteran point guard. Detroit was eyeing Vincent as well, sources said, before the Pistons made a draft-night trade with the Celtics to acquire Marcus Sasser at No. 25. Vincent is also a secondary candidate in Dallas and Philadelphia, if any chicanery were to prevent the Mavericks or Sixers from retaining Kyrie Irving or James Harden, respectively. Both All-Stars, however, appeared headed back to their incumbent teams at the moment.
Rest assured, Miami and Vincent, sources said, have mutual interest in keeping the UC Santa Barbara product with the Heat, particularly considering the roster's other options at point guard. Without a Lillard trade, or another deal that includes Kyle Lowry's $29 million expiring contract, league personnel are preparing for Miami to waive Lowry with tax penalties in mind despite his strong postseason contributions. The Heat explored Lowry deals before February's trade deadline, sources said, and there have already been whispers of potential destinations for Lowry on the buyout market. That would leave Vincent as the only reliable, in-house answer to slot next to Butler in the backcourt. Miami is believed to value Vincent around $10 million in annual salary, sources said, before negotiations begin in earnest. Keep an eye on Toronto providing Vincent with another landing spot if Fred VanVleet does ultimately depart the Raptors.
Chicago's point guard position is another piece of this overall free-agency puzzle. The Bulls are left without clear answers to Lonzo Ball's ongoing misfortune with knee issues. Executive vice president Artūras Karnišovas told reporters following draft night that Chicago expects Ball to miss the entirety of the 2023-24 season, which has thrown the Bulls' build completely off course after stacking a wealth of offensive talent. With a clear need at the position, and Alex Caruso viewed more as a wing playmaker than a floor general, the Bulls are expected to bring back restricted free agents Ayo Dosunmu and Coby White, league sources told Yahoo Sports. There remains the chance for Patrick Beverley to return to Chicago, sources said, after the veteran helped the Bulls march into the play-in tournament this spring, although Beverley has drawn interest from several playoff contenders as well. If he were to ultimately find a new home, the rumblings of Chicago pursuing a reunion with Derrick Rose, whom the Bulls targeted in 2021 for the salary slot that ended up going to Caruso, could certainly resurface.
The bigger questions in Chicago come down to the Bulls' perceived Big Three of Zach LaVine, DeMar DeRozan and free agent Nikola Vučević. The Bulls have engaged several teams on LaVine trade opportunities, sources said, as the All-Star guard enters the second season of a five-year, $215 million contract. Chicago, however, is said to hold LaVine's trade value far above the return that Washington netted for Bradley Beal earlier this month, and it's difficult to find a trade partner for the Bulls that is willing to sacrifice blue-chip players and first-round draft capital for the 28-year-old and his lucrative contract in the league's new economic landscape. Maybe the Knicks will kick the tires again on a serious LaVine overture this summer, but New York has so far drawn atypical praise from around the NBA for the Knicks' recent patient team-building approach. Dallas was seen as one of LaVine's most ardent suitors last offseason before he re-signed with Chicago, but the Mavericks since went on to acquire Irving as the second banana to Luka Dončić.
LaVine's big deal makes the Bulls' dance with the luxury tax as tricky as any team's, primarily considering contract talks with Vučević and any potential extension DeRozan can command while he enters the final season of his contract. Even at 34, DeRozan's play has been well-deserving of another payday, with his blistering midrange scoring that doesn't pose a consistent threat from beyond the arc. There continue to be questions, though, about DeRozan and LaVine's long-term pairing in Chicago, as the two talented scorers have struggled at times with sharing primary creation opportunities in Billy Donovan's offense. Vučević's return to Chicago appears likely. The Bulls wouldn't be thrilled about Vučević walking after mortgaging two first-round picks and Wendell Carter to acquire him at the 2021 trade deadline. Vučević's situation seems far from cut and dried as many league observers have believed it was dating back to May's NBA Draft Combine.
There isn't much of a starting center market this summer. Boston already splurged for Kristaps Porziņģis. The Rockets might prove to be an option for Vučević if Houston's top target, Brook Lopez, spurns the Rockets' advances and stays in Milwaukee, but would Vucevic want to join a rebuilding environment? Plus, Houston head coach Ime Udoka is focused on installing greater defensive principles in his first season at the helm of the Rockets, and Vucevic doesn't bring the same level of back-line anchor ability that Lopez or Jakob Poeltl — expected to return to Toronto, sources said — could provide behind Houston's young core. Maybe San Antonio, as the Spurs target centers to pair in the frontcourt with Victor Wembanyama, could be the other possible destination Vučević needs for optimal leverage — unless the Spurs are a real threat to steal Poeltl back from Toronto, as several front office figures have mentioned in recent weeks.
Elsewhere in the Bulls' frontcourt, Andre Drummond has until Thursday to decide on his $3.4 million player option for next season, or whether the veteran center wants to pursue a minimum-salary opportunity with a stronger playoff contender.