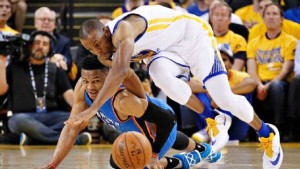 OAKLAND, Calif. — The Oklahoma City Thunder tried to take all preventative measures necessary to remain calm, confident and loose heading into Game 5. They went to a movie — "X-Men: Apocalypse" — as an entire team Monday night. They had a light shootaround Tuesday morning in San Francisco. There wasn't tension. For instance, Thunder coach Billy Donovan and Russell Westbrook walked into shootaround together while having an animated conversation about a different movie and whether or not Westbrook should have read the book first.
But with the Thunder's opening quarter at Oracle Arena in Game 5, they looked hurried. They looked overzealous. They were trying for a first-quarter knockout blow, probably to feed the doubt they'd installed in the Warriors in the previous two games. They hit only 6-of-26 shots and were out of sorts. Fourth quarter, a lot of the same. It was a six-point game with 3:57 to go. The Thunder were putting pressure on the Warriors and the game was tightening.
The Thunder's next four possessions: Westbrook missed 3, Kevin Durant missed 3, Andrew Bogut blocked a Durant jumper, Westbrook split free throws, Durant missed a jumper.
It was always going to be an uphill battle and quite the ask to walk into Oakland and take another game from the defending champions, especially under elimination circumstances, with desperation oozing out of the Warriors. The Thunder said all the right things about focusing on the 48 minutes in front of them, about staying in the moment, about not looking ahead to the series returning to Oklahoma City should they lose.
That reality, though, was always there. The Thunder were a terrifying juggernaut at home in Games 3 and 4, stomping the Warriors by 28 and 24 points, respectively. And now, as the series heads back there for Game 6, the Thunder have to make their stand.
"Oh, we know we're going back home," Durant said. "But we can't relax. We've got to keep our foot on the gas, and we've got to play much better. I thought we played extremely hard tonight. They didn't outplay us; they didn't outwork us. I thought both teams were in a slugfest tonight. So we've got to bring that energy back home. It was a matter of us making a few shots and playing a little more solid defense on them. We'll see what happens."
There's no question the Thunder walked away from Game 5 still completely confident in their ability to beat the Warriors. They stood toe to toe, absorbing Warriors runs and responding with haymakers of their own. The Warriors put a whole lot into Game 5 and it showed. Both teams were exhausted, but the Warriors dug extra deep. And they have to find a way to produce that kind of effort two more times.
But despite the promise of at least a seventh game, Game 6 in Oklahoma City carries a feel of must-win for the Thunder. There's a certain air of invincibility to them in their own building and allowing the Warriors to puncture that would leave all bets off for a Game 7. All their eggs need to be in the Game 6 basket.
"It's a series right now," Donovan said. "We put all of our emphasis and all of our effort into tonight to play the very best we could. There were moments I thought we played very well. Moments we could have played better. Travel back, again, try to continually evolve and get better from this. Find ways that we need to improve, things that we need to do, and then get ready to play again for this next one. Get ready to play Game 6."
The Thunder aren't looking at significant adjustments. The Warriors tweaked; the Thunder tweaked back. But at this point in a series, it's about who is going to play better. If the Thunder are going to get there, they obviously need the very best from Westbrook and Durant. They also need them to be more democratic. The supplementary scoring wasn't there in Game 5 as the two stars seemed to shoulder too much of the responsibility, taking 59 of OKC's 91 shots.
"That's who we are," Durant said. "We've got to be aggressive. When they're going in, you won't say anything. But we happened to miss some tonight. But we were aggressive. We were right there. We had an opportunity to win the basketball game. That's what we do. That's how we play, like it or not.
"But like I said, I make four more shots, Russell make five more shots and you're not really talking about it, so you can't say nothing when we miss, but don't say nothing when we make them."
Game 6 is the most important game in Oklahoma City since Game 2 of the 2012 Finals. Really, if you want to be dramatic about it, it's the most important game ever. You can run down the list of narratives, but they're all pretty obvious at this point. The Thunder have preached composure and discipline all season, making it a focus to maintain their heads in the big moments. This is the biggest of all, and the Warriors are going to put it to the test.
"We trust in our guys and we've got confidence in our lineup," Westbrook said. "We'll be all right."