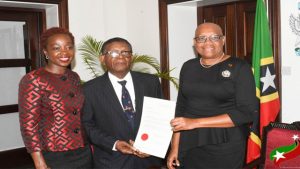 Walford Gumbs was sworn in as the new Deputy Governor-General of St Kitts and Nevis yesterday.
Gumbs' Oath of Office and the Oath of Allegiance were administered by Governor-General Dame Marcella Liburd at a brief ceremony.
Following the ceremony, Gumbs said he was grateful for the opportunity to serve the people of St Kitts and Nevis and he also thanked the people responsible for nominating him for the position.
"I want to thank all those persons who in any way were responsible for the opportunity that has been given to me to serve our country, our federation, in this another capacity of Governor General's Deputy. I am indeed honoured and I accept the responsibility given to me in all humility. I am humbled and I hope, with God's blessing that I would be able to live up to the responsibilities for however short a period of time," he said.