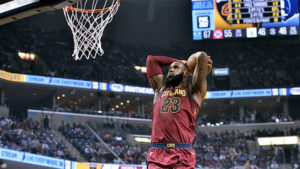 LeBron James contributed 33 points, 13 rebounds and nine assists in a losing cause for the Cleveland Cavaliers as the San Antonio Spurs pulled away down the stretch to seal a 110-94 win.
Cleveland held a three-point lead at half-time and trailed by only two heading into the final quarter but their challenge subsided as the Spurs halted a four-game losing streak.
LaMarcus Aldridge poured in 27 points while Danny Green added 22 on his return to the San Antonio line-up after missing Friday's loss at the Denver Nuggets with an illness.
A season-high 36 points from Jrue Holiday lifted the New Orleans Pelicans to their fifth consecutive victory as they pipped the Milwaukee Bucks 123-121 after overtime.
New Orleans trailed by 18 early in the second half but sparked into life in the third quarter and outscored their opponents 38-19 before edging them out in the additional period.
The Houston Rockets show no sign of slowing down as they clinched a 12th successive success by defeating the Denver Nuggets 119-114.
Talisman James Harden led the way for the Western Conference leaders by notching 41 points, eight rebounds and seven assists.
Bradley Beal bagged 24 points to inspire the Washington Wizards to a 109-94 victory over the Philadelphia 76ers while Dwight Howard's 17 points and 12 rebounds helped the Charlotte Hornets beat the Detroit Pistons 114-98.