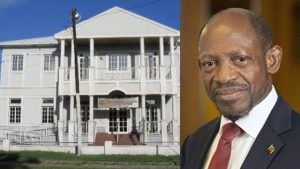 The diplomatic passport case against Dr Denzil Douglas has been dismissed.
Resident High Court Judge His Lordship Justice Trevor Ward QC delivered his judgement in favour of the SKNLP Opposition Leader Dr Douglas at the Basseterre High Court on Wednesday afternoon.
The learned High Court Judge ruled that Dr Douglas was not under any acknowledgement of allegiance, obedience or adherence to a foreign power or state ie Dominica.
As a result Dr Douglas was not disqualified from sitting as a member of parliament for St Christopher #6. The judge further ordered for the defense team and the Counsels for the claimants to make submissions on costs Dr Douglas is entitled to within 14 days.