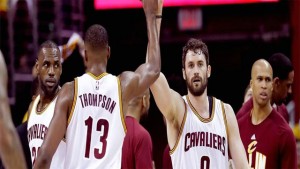 Kevin Love got rolling early, leading the Cavs as they steamrolled the Raptors. So, as it turns out, the Cleveland Cavaliers didn't forget how to shoot and defend. They just forgot to pack their A-game when they left for Canada, and when they got back to Quicken Loans Arena for Game 5, they found it.
Man, oh man, did they find it.The Cavaliers ravaged the Toronto Raptors on Wednesday, rediscovering their shot-making rhythm and dominating from the four-minute mark of the opening quarter on as they rolled to a 116-78 victory that stands as the most lopsided win in franchise postseason history — displacing the 31-point beatdown they handed Toronto in Game 1 of this series — and gave them a 3-2 lead in the best-of-seven Eastern Conference finals. Cleveland shot 57.1 percent as a team and led by as many as 43 points in the rout, and can eliminate the Raptors and move on to their second straight NBA Finals — and the sixth in a row for superstar LeBron James — with a win in Game 6 in Toronto on Friday night.
So, as it turns out, the Cleveland Cavaliers didn't forget how to shoot and defend. They just forgot to pack their A-game when they left for Canada, and when they got back to Quicken Loans Arena for Game 5, they found it. Man, oh man, did they find it. After serious struggles on both ends of the floor in Games 3 and 4 in Toronto, which the Raptors won to even the series after two blowouts to open the conference finals, James' supporting cast stepped up in the first half of Game 5.
Kevin Love got himself going early, tossing in a short hook and stepping into a trail 3-pointer in transition on his first two shots to find a rhythm en route to a "bad-MFer"-evoking and career-postseason-high 19 first-half points on perfect 6-for-6 shooting — more field goals than he'd made in the two games in Toronto combined — to pace the Cavalier offense. After losing the battle on the boards to Raptors center Bismack Biyombo in Games 3 and 4, Cleveland center Tristan Thompson snagged two offensive rebounds and a putback in the first three minutes on his way to nine points and seven boards in 17 1/2 first-half minutes.
J.R. Smith, who had struggled with his shot and been roasted defensively by DeMar DeRozan, knocked down three of his first four looks and played smart help defense. He logged three of Cleveland's eight first-half steals, as the Cavs cranked up their trapping and ball pressure on DeRozan and Kyle Lowry in hopes of knocking Toronto's All-Stars out of the groove they found at the Air Canada Centre and forcing other Raptors to beat them. It worked — the Cavs forced 11 first-half turnovers leading to 20 points, limited the Toronto backcourt to 13 first-half points on 4-for-14 shooting, and watched the rest of Dwane Casey's club try unsuccessfully to carry the weight.
After a free-throw line jumper by Jonas Valanciunas — coming off the bench and seeing his first action since Game 3 of Toronto's second-round series against the Miami Heat — cut Cleveland's lead to 20-16, the Cavs ripped off a 17-3 quarter-closing run fueled by James' playmaking, Kyrie Irving's shot-making, and clamp-down defense to take a 37-19 lead after the first quarter. Tyronn Lue opened up the second with his shooting-heavy hammer second-unit lineup — James alongside Channing Frye up front, Iman Shumpert and Richard Jefferson on the wing, Matthew Dellavedova at the point — and broke the game open.
That group ran the lead to 25, thanks in part to a return to the HORNS set that flummoxed Toronto in the fourth quarter of Game 4, which resulted in too-easy buckets like this high-handoff from James to Jefferson: The Cavs just kept pouring it on from there, pushing the lead to 31 points at halftime, which set a couple of records that the good people of Toronto might prefer to have stricken from the books:… and, from there, it all felt very academic. The Raptors never threatened, or even hinted at threatening, in a dispiriting performance in which Cleveland's Big Three nearly outscored the entire Toronto team by themselves.
Love came out with 7:09 left in the third, having poured in 25 points on 8-for-10 shooting in 24 minutes. (This is a much, much more comforting brand of sitting-for-the-whole-fourth than Love experienced in Games 3 and 4.) James exited with 1:53 remaining in the third, bowing out with 23 points, eight assists and six rebounds in 31 1/2 minutes. Irving checked out with 1:33 left, after kicking in 23 points, three rebounds, three assists and three steals. Had Marv Albert been calling this one rather than Mike Breen, he'd have referred to the full fourth quarter — and, really, probably the entire second half — as "extended gar-bajj time."
With Lowry (13 points on 5-for-12 shooting, six assists, five turnovers) and DeRozan (14 points on 2-for-8 shooting and 10-for-12 at the foul line) firing blanks, the Raptors at no point appeared to have answers for a version of Cleveland that's making open shots again, winning battles on the glass and for 50/50 balls, and aggressively trapping on the pick-and-roll. That doesn't mean they can't find those answers back in the friendly confines of the ACC come Friday night, or that the Cavs are going to remember to pack their shot-making and defensive attentiveness before getting on the plane this time around.
In a season series where the home team has won all eight games, though, the Raptors' inability to get anything going in the Q seems an ill omen for their chances of pulling this out in seven … which could give the Cavs the extra mental edge they need to be able to finally get off the schneid north of the border and finish the job in six.
After Game 2, just about everyone in the basketball-watching world was counting the hours until the Raptors were swept out of the postseason; then, they dug in and forced a Game 6. If they can do it again Friday, they'll play a third straight Game 7 in these playoffs and earn the right to continue the greatest season in franchise history. If they can't, they'll become the latest Eastern Conference challenger sacrified to LeBron's annual coronation.