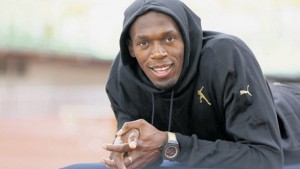 BEIJING, China – Just two days before defending his 100m, 200m and 4x100m relay titles at the World Championship in Beijing, Usain Bolt has indicated that he is back to the form that saw him conquer the sprint world in the last seven years.
"The training is good, everything will come together. The coach is happy and once he is happy, I know I am in good nick. So I am ready to go," he told more than 300 journalists at a Puma/JAAA press conference on Thursday.
Bolt was quizzed about his readiness to take on American Justin Gatlin who has been in tremendous form all season.
"[All] I need to do right now is to execute. I haven't gotten any more race but if I keep running through the rounds, I will get my body to run up to speed so I will be alright," he added.
Bolt, a notorious slow starter, revealed to the world that his start has improved significantly.
"We have worked on that and in my last stop start session yesterday (Wednesday), coach was smiling. So thumbs up to me. But I am happy with the way everything has been going, so I am happy with that," he added.