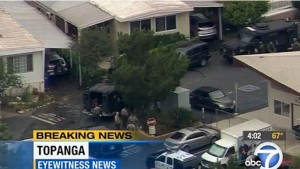 Los Angeles County authorities were in a stand-off early on Friday with an elderly woman who fired at a police robot and barricaded herself inside a mobile home in the Topanga Canyon outside the city, officials said.
The Los Angeles County Sheriff's Department said the incident began around 5:35 a.m. local time on Thursday when a woman in a Topanga mobile home park reported having a medical emergency. The department said that when firefighters arrived, she pulled out a gun.
Deputies retreated to call for backup and the nearby community was evacuated, the department said. The woman, who was not identified, barricaded herself in the park and authorities had since sought to have her surrender, but to no avail.
The woman's motives were not immediately clear.
"Negotiators have worked tirelessly throughout the day using various tactics to try and persuade the woman to surrender peacefully. All efforts to this point have been unsuccessful," the sheriff's department said in a statement.
At one point, police sent in a robot to make contact with the woman, but she fired shots at it.
Local broadcaster KABC reported that the woman had threatened neighbors, and that deputies had fired stun grenades and tear gas into the mobile home.
Footage published by local media showed numerous police and SWAT vehicles lining the street, along with what appeared to be an armored forklift.